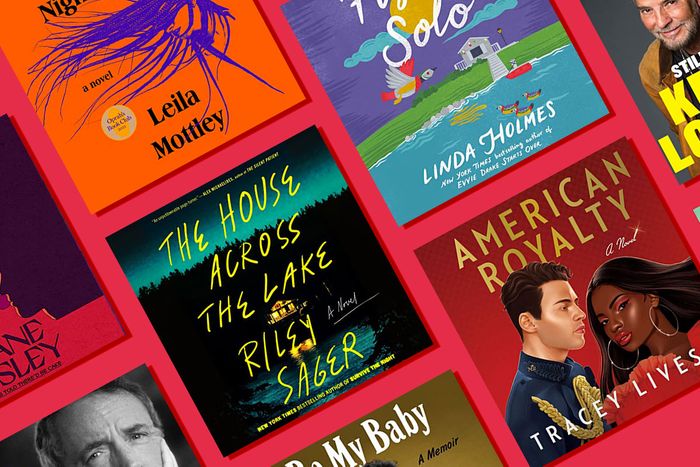 Photo-Illustration: Vulture
The audiobook category is expanding every day, and we certainly can't listen to everything. The goal of this column is to steer you toward audiobooks that we hope will provide the best experiences, pop-culture value, and something to talk about at your cocktail party.
June Picks
Read by: Julia Whelan
Length: 8 hours, 56 minutes
Speed I listened: 2x
I never imagined I'd recommend a book in which a duck decoy serves as a major plot point. (That said, I do know a thing or two about duck decoys.) Evvie Drake Starts Over, Linda Holmes's first novel, is about a young widow in Maine who meets a baseball player with the "yips." I'd start with that book before reading Flying Solo; it's more of a full meal. (Both are read warmly by Julia Whelan, a total pro.) Flying Solo is more of a light lunch, an adorable listen for when you're cleaning the summer house. In this one, Laurie, a jilted bride, returns to Maine to sort her great-aunt Dot's estate. Finding the wooden duck sets things in motion, leading to a duck-decoy scam and a duck-decoy romance, fulfilling all your duck-decoy desires.
Read by: Bernadette Dunne
Length: 11 hours, 3 minutes
Speed I listened: 2x
While life turns out okay for Holmes's heroines, things aren't quite as peachy for the protagonist in this thriller. She's Casey Fletcher, a disgraced actress who hides out at her family's lake house, spying on tech titan Tom Royce and his supermodel wife, Katherine. Casey has a drinking problem, of course, and there's a sprinkle of Woman in the Window, a dash of Girl on the Train, and a little bit of What Lies Beneath. Regardless of the tropes, it's all about Bernadette Dunne's performance. She's not how I would imagine Casey if I had read her on the page, but her eccentric voice is relatable and alarming at the same time, a compulsively listenable combination.
Read by: Antony Ferguson and Wesleigh Siobhan
Length: 10 hrs, 46 mins.
Speed I listened: 2.1x
Every once in a while, I'll pick up a romance and be shocked by the explicit sex. That's what happened listening to this book about a Cardi B–like rapper named Danielle "Duchess" Nelson who has an affair with the gorgeous, tall Prince Jameson. The flap copy suggests the plot is inspired by Meghan "Duchess" Markle and Prince Harry. I suppose it's not that much of a stretch. I hung out with Markle a bit when she was married to her first husband. We nicknamed her "So Delicious" because she endearingly knew all the lyrics of "Fergalicious." Like many books of this ilk, the narrators alternate reading chapters. Antony Ferguson's are a bit flat. He voices Duchess as if she's a southern Belle from Steel Magnolias. Wesleigh Siobhan, however, is delightful. But beware: Things begin amusingly enough, but very quickly Prince Jameson's, well, little prince, starts stirring and/or throbbing on the regular.
Read by: The author
Length: 8 hrs, 9 mins.
Speed I listened: 1.7x
There are some books that are perfect to consume as you amble around New York City. This is one of them, especially if you've (a) ever worked in media or (b) ever dated someone. Disclosure: Sloane Crosley is an old friend, but anyone will enjoy listening to her read her novel about Lola, a young arts-and-culture editor who mysteriously keeps running into her ex-boyfriends. Sometimes I bumped on the names of the characters, which felt right out of Search Party. Besides Lola, there's Vadis, Boots, Chantal, Amos, Kit, Jeannine, Eliza, Howard, Brody, Cooper, Oscar, Willis, Clive, Errol, Georgette, Adella, Jin, and a cat named Rocket.
Read by: Yes, James Patterson
Length: 7 hrs, 5 mins.
Speed I listened: 2.2x
In real life, the blockbuster novelist James Patterson does not look like the picture on the cover of this memoir. (In real life, he's also gotten into some hot water lately.) But I guess selling trillions of books makes you look like Kevin Costner. I expected Patterson to have a booming movie-trailer voice, but instead it's just regular and squawky. The early chapters in this collection of quick bites can be annoying. The way he describes working at a mental institution — both James Taylor and Susanna Kaysen (Girl Interrupted) were patients — can feel flip. But before I knew it, Patterson was ingratiating himself in my life. He hooked me when he called Jeffrey Epstein a "piece of human garbage." (Patterson co-authored a 2016 book about his Palm Beach "neighbor" Epstein, which became a Netflix documentary.) He also dreams about getting nominated for the Nobel Peace Prize only to arrive in Stockholm and discover it is a great big joke. He wishes that Hollywood would make a decent movie or TV show out of one of his properties. And while he knows it's great that he's the best-selling writer in the world, a lifetime of reading great literature suggests it's also "sad" that that's the case. A specific quibble: I wish Patterson's reading recommendations throughout were as diverse as the many series on his bibliography.
Read by: Rosie Perez
Length: 10 hrs, 43 mins.
Speed I listened: 1.85
Ronnie Spector, the lead singer of the Ronettes and ex-wife of notorious music producer Phil Spector, had recently finished revising her 1990 memoir when she died in January. So actress Rosie Perez stepped in to read the audiobook, and, go figure: She's a total dream. It helps that there are amazing details in this book, from the first time Ronnie saw a dead body to her tendency, in her later years with Phil, to get drunk, alone, on sweet Manischewitz wine. But Perez's emotion toward Ronnie feels so genuine, whether when she breaks out giggling at a particularly amusing moment in Ronnie's life or starts sniffling during a more tragic turn. If nothing else, it's worth it to hear Perez pronounce that "Phil Spectah" happened to have "had a great tush."
Read by: The author
Length: 10 hrs, 50 mins.
Speed I listened: 1.9x
Did Kenny Loggins release this book to coincide with Top Gun: Maverick, or did Top Gun: Maverick come out to capitalize on the success of Kenny Loggins's memoir? It's a head-scratcher. Loggins famously recorded "Danger Zone," from the first Top Gun film. In this book, he says he channeled Tina Turner when he sang it, which is just one of the fascinating facts I learned here, knowing next to nothing about the singer-songwriter prior to listening. He wrote "House at Pooh Corner" when he was 17, perhaps foreshadowing his marriage to his colonic hygienist in 1992. They were going to have a naked wedding, but it ended up being too cold outside. Loggins has an affable, chatty demeanor that provides a nice complement to Perez as Ronnie Spector. Definitely stay for his great story about becoming pals with John Travolta and shortly thereafter ending their friendship.
Read by: Joniece Abbott-Pratt
Length: 10 hrs, 48 mins
Speed I listened: 1.75x
I got through about two hours of this audiobook and decided that it could wait. Being the latest Oprah's Book Club selection, I knew it'd certainly get enough attention whether I included it or not. But something pulled me back to Nightcrawling, and at that point, frankly, I couldn't turn it off. It was suddenly riveting, heartbreaking, and wise beyond its years. (Leila Mottley started writing the book at 16 and finished it at 20.) Joniece Abbott-Pratt's performance as Kiara, a teenager just trying to survive in East Oakland who turns to selling her body on the streets, is spellbinding. Sometimes books don't always hit you at the right moment, but this is one of those that stays with you for a long time.
May Picks
Photo: Publisher
Read by: The author
Length: 10 hours, 55 minutes
Speed I listened: 1.9x
This is a crazy honest book. Since it was published in 2013, I've read Song of Spider-Man twice. Now it's being released for the first time on audio. Berger gives his raw, personal account of his time writing the script with Julie Taymor of the epically troubled musical Spider-Man: Turn Off the Dark. The play, which closed in January 2014, may be Broadway ancient history, but this memoir still cuts to the bone, partly because Berger is so candid about the artistic process behind the runaway-train production. There's so much insecurity, so much backstabbing, so much back-channeling, I'm almost surprised that Hulu hasn't adapted it into a docudrama.
Photo: Publisher
Read by: The author
Length: 7 hours, 30 minutes
Speed I listened: 1.3x
I crow a lot about David Sedaris audiobooks, but that's because the category was pretty much built for him. These essays, some performed in front of an audience, made me laugh — and laugh loudly while waiting for the Q train on 57th Street. People stared. In this collection, Sedaris talks a bit more circumspectly about his father, who died in 2021, than he has in the past, and his observations about his marriage with Hugh are funnier than ever. Sedaris spent a lot of time on the Upper East Side during the pandemic. He bought one apartment, he writes, and then another one upstairs to have some alone time. (His sister Amy did the same thing downtown, but so she could get a break from her pet rabbit.) Now that I know he might be in the neighborhood, I'm keeping an eye out for him with the hope that one day we can go shopping together at Comme des Garçons.
Photo: Publisher
Read by: Caroline Hewitt and Robert Petkoff
Length: 11 hours, 31 minutes
Speed I listened: 1.9x
Years ago, when I plowed through Jennifer Weiner's oeuvre on audio, that led to me to start on the Emily Giffin catalogue. They both write what might be considered elevated women's fiction. This month, I decided to skip Weiner's latest, The Summer Place (even if it is read by Sutton Foster) and go for Giffin's instead. Meant to Be is a loose retelling of a relationship like JFK Jr.'s and Carolyn Bessette. Joe Kingsley III, a political scion and lawyer, meets Cate Cooper, a fledgling supermodel, on the beach in Southampton. Are they meant for each other? Check out the title and give it a guess. Hewitt and Petkoff narrate alternating chapters more than pleasantly. They make the book go down like a pitcher of frosé. I especially enjoyed Hewitt's frosty take on Cate's South African fashion-model roommate.
Photo: Publisher
Read by: The author
Length: 6 hours, 48 minutes
Speed I listened: 2x
COVID-19 has reaped a truly unbelievable onslaught of celebrity memoirs, and I low-key don't hate it. In this book of essays, Driver admits her manager asked what she wanted to do to make some money during the Hollywood shutdown. She chose to write a memoir. On audio, she's very likable company, especially when she talks about the tumult of dating Matt Damon (whom she met on Good Will Hunting) and exquisitely pronounces phrases in a variety of foreign tongues. Driver makes you believe she actually knows what the word "Proustian" means. Stay for the end when the author Emma Forrest — you should read or listen to Your Voice in My Head — interviews Driver. It's a surprisingly perceptive conversation that includes one of my favorite topics: mistrusting celebrities who don't read books.
Photo: Publisher
Read by: The author
Length: 8 hours, 10 minutes
Speed I listened: 1.8x
Liu may now be recognized worldwide as Marvel's Shang-Chi, but he's also an unlikely star who worked as an accountant until he decided he needed to pursue acting. He started with being an extra on Pacific Rim and actually enjoyed it. That led to more jobs as extras, some pop-up flash mobs, and, eventually, the Canadian sitcom Kim's Convenience. Liu is surprisingly tough on his Chinese immigrant parents who gave him a hard time about some of his choices, though he also, quite touchingly, interviewed them extensively for this memoir. Like the MCU hero he plays onscreen, Liu is totally endearing, whether he's recalling the high-school boy band he started or how much he loves boba tea. And he really loves boba tea.
Photo: Publisher
Read by: The author
Length: 10 hours, 55 minutes
Speed I listened: 1.9x
I get that the title of this memoir is a reference to Dirty Dancing. Baby, a.k.a. Jennifer Grey, won't be put in the corner ever again, but I especially responded to a moment where Grey uses the term "legend lasagna." She's describing the cast of Francis Ford Coppola's The Cotton Club, which is filled with just "layer upon layer of geniuses." Why didn't Grey take a big swing and call this book Legend Lasagna? That's just a marvelous expression that transcends pasta and celebrity. I was never a huge fan of Dirty Dancing or the Catskills, but there's something dazzling about Grey's candor, not to mention her congenial narration. We get great digressions about Matthew Broderick, Johnny Depp, and a terrible appearance on Johnny Carson. Things only get sappy in the end, once she wins Dancing With the Stars. And, yes, I know no publisher would approve Legend Lasagna by Jennifer Grey, though maybe if this one does well, she'll write a cookbook.
Photo: Publisher
Read by: The author
Length: 7 hrs, 2 mins.
Speed I listened: 2.1x
Gilbert was the lead child star of Little House on the Prairie and also appeared, more recently, as an adult star of a Little House on the Prairie musical. In one of those life-imitating-art switcheroos, Gilbert and her husband, the actor and director Timothy Busfield, bought a house in the Catskills for slightly less than $90,000, or basically "beer money for George Clooney." They spent the pandemic there simplifying their life. I found it all very grounding, but maybe because I listened as I watched coverage of the Met Ball. Though Gilbert relies on way too many puns about raising chickens, I want to throw my support around anyone who has a chapter in her book called "Meshuggah from Michigan" and willingly describes stuffing-flavored potato chips she found at Trader Joe's as "life-changing." They don't serve stuffing-flavored potato chips at the Met Ball, do they?
Photo: Publisher
Read by: The author
Length: 9 hours, 43 minutes
Speed I listened: 2.5x
Of all the celebrity memoirs I listened to this month, this one's the toughest and most intense. Miss Memory Lane by Colton Haynes is a close second and somehow even more unsettling. That's a feat for Haynes because Blair, who suffers from multiple sclerosis, categorically goes there on some tough issues: her strained relationship with her mother; her even more complicated relationship with her basically estranged father; at least one sexual assault; her troubles with alcohol since childhood; and how her son, Arthur, was, like her, a "mean baby." There are moments of inspiration and hope, but Blair seems to audibly break down at least once per chapter. I've listened to a lot of celebrity memoirs, and I can't remember a narrator crying so much. But that's what makes it real. Make sure you stick around for the acknowledgments. Blair's thank-yous to a lengthy list of celebrity friends is a real trip.
Photo: Publisher
Read by: The authors
Length: 8 hours, 26 minutes
Speed I listened: 2.2x
I liked the U.S. version of The Office — I really did. Do I like it enough to listen to Office Ladies, a podcast on which co-stars Fischer and Kinsey talk through old episodes of The Office? No. In fact, I didn't even know said podcast existed. Am I going to start listening to it now? Nope. But it's a delight to spend a few hours with these actors as they discuss their early careers and the ups and downs of their friendship. Their banter is occasionally interrupted by, say, Ed Helms playing the banjo or Creed Bratton singing a bizarre theme song. There's a service element, too. Fischer and Kinsey give impeccable advice on attending awards shows and red-carpet events: Always eat before you go. Go to the bathroom with a buddy. And, when trying to meet people like Meryl Streep, use "the lap-around-the-room laughing approach."